ARC FLASH ASSESSMENT
---
First you need a Skype Account, for the live Questions & Answers Session with Dave Johnson, your professional engineer. This can be started by clicking on the Skype Logo below, and continue to create an account through Skype.


Once you have set up your own account:
Step 1- Add DK.Johnson.Inc to your Contacts by typing his name in the Contacts Search, as seen in the example below.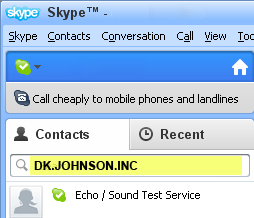 OR
If you do not have the option to download Skype at your facility, please contact (276)650-3495 to set up a LIVE Questions & Answers Conference Call with DK Johnson during your training session.